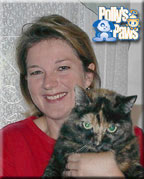 As a child growing up in Iowa, Polly always had a house full of pets - dogs, cats, guinea pigs, gerbils, hamsters, mice, turtles - you name it! Included among them were always a few stray dogs and cats that found their way to Polly's home, where she would feed and groom them, and then either attempt to locate their owners or find other loving homes for them.

Now, rather than trying to find homes for all of the orphaned and abandoned animals herself, Polly focuses her efforts on supporting the local animal welfare organizations by volunteering her time and fundraising.
Professionally, Polly spent the majority of her career working in the fields of law and real estate. After 20 years in the corporate world, Polly took a leap of faith and quit her "real" job to pursue her passion of a career working with animals. Hence, Polly's Paws came to be.
Polly's caring ways, reliability, and attention to detail have provided numerous pet owners with peace of mind over the past few years. Polly's Paws is the optimal solution for those who travel or are otherwise unable to care for their pets.
Bonded and Insured. -
References available upon request. -
FREE get acquainted visit! -
Polly's "Pack" . . .
Polly currently shares her home with her three dogs, Chloe, Maggie, and Buddy, and three cats, Molly, Jilly, and Misty